Individual record
First name: Ann
Surname: Campbell
Maiden name: Ann Gillies
Sloinneadh/nickname:
Date of death: 26/09/47
Place of death:
Age: 80
Year of death: 1947
Date of burial:
Date of funeral: September 29, 1947
Gravestone inscription:
In Loving Memory
John Campbell
Died 2nd Feb. 1944 Aged 88 Years
His Beloved Wife
Ann Gillies
Died 26th Sept. 1947 Aged 80 Years
Their Family
Finlay
Died 8th Sept. 1901 Aged 4 Years
John
Died 1st May 1912 Aged 6 Years
Both Interred Sighthill Glasgow
Angus
Lost At Sea Through Enemy Action
5th April 1917 Aged 25 Years
Mary
Died 4 Feby 1959 Aged 65 Years
Duncan
Died 15th Feby 1974
Malcolm
Died 27th Oct. 1976
Marion
Died 15th December 1982
Home address: Culduie
Township: Culduie
Originally from:
Date of birth:
Biography:
Aged 81 in the Highland Council's Register of Interments. She was a sister of Sìne Mhòr MacDonald, m.s. Gillies, and Mrs Gollan. They were from Callakille originally.
Reference number: 154
Interment number: 232
Graveyard section: 2
Lair number: 55
Image: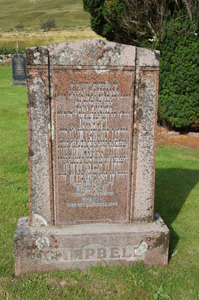 Secondary image: