Individual record
First name: Annie
Surname: Beaton
Maiden name: Annie Mary Gillies
Sloinneadh/nickname: Annag Ali Bhàin
Date of death: 17/09/78
Place of death: Dingwall
Age: 81
Year of death: 1978
Date of burial:
Date of funeral:
Gravestone inscription:
In
loving
memory of
Annie Mary Gillies
who died at
Ross Memorial Hospital
Dingwall
on 17th September 1978
aged 81 years
beloved wife of
Donald Beaton
died 31st March 1990
aged 98 years
Home address: Toscaig
Township: Toscaig
Originally from:
Culduie
Date of birth:
Biography:
Annie Mary was a daughter of Ali Bàn Gillies, Culduie. She was a sister of the Reverend Kenneth Gillies (Gillies of Partick); she had another brother Roddy in Culduie. She and Danie had lived in Ardbain after they married and then moved to Toscaig, c1960.
Reference number: 194
Interment number:
Graveyard section: 2
Lair number: 11
Image: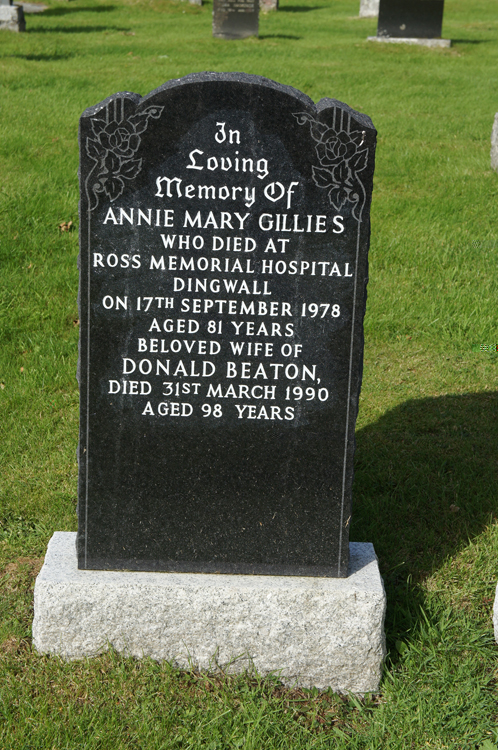 Secondary image: