Individual record
First name: Rhoda
Surname: Cameron
Maiden name: Rhoda MacNair
Sloinneadh/nickname:
Date of death: 26/03/06
Place of death:
Age: 93
Year of death: 2006
Date of burial:
Date of funeral: March 30, 2006
Gravestone inscription:
In
Loving Memory Of
DONALD K. CAMERON
DIED 6th DECEMBER 1995
AGED 87 YEARS
AND HIS WIFE
RHODA MACNAIR
DIED 26th MARCH 2006
AGED 93 YEARS
Home address: Camusterrach
Township: Camusterrach
Originally from:
Toscaig
Date of birth: October 2, 1912
Biography:
Rhoda MacNair Cameron was the youngest of five sisters born to Dòmhnall Choinnich (Donald MacNair) in Toscaig. She was a fantastically bright student in school but was denied the opportunity of further study, although her eldest sister Jessie Ann is believed to have been the first Applecross-born woman to graduate from university. Her official birth name was Rhodina, but she didn't like people to know this, and only went by Rhoda. She was an incredible source of local knowledge, stories and genealogical information. She was the last of the five sisters to pass away after Jessie Ann, Bella, Lexy and Nina.
Reference number: 329
Interment number:
Graveyard section: 4
Lair number: 46
Image: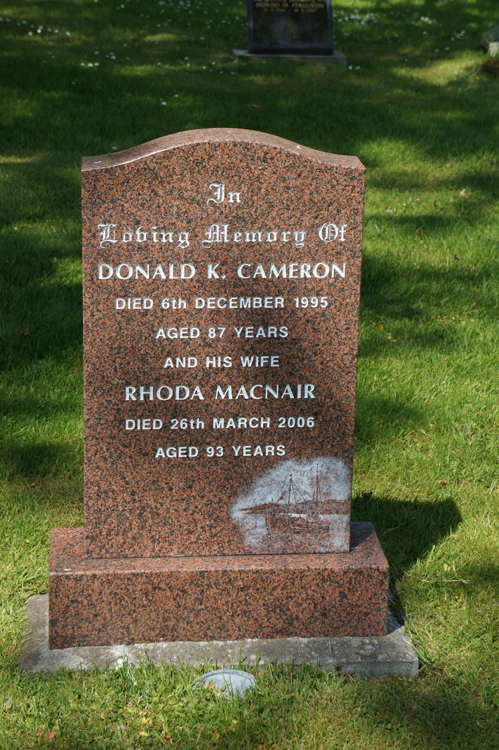 Secondary image: